The Sopranos is a band specifically formed by Chris Pearce as a jazz band fronted by two soprano saxes reminiscent of the groups popularised by Sidney Bechet, Mezz Mezzrow, Bob Wilber, Soprano Summit (with Kenny Davern) and others.
Although only formed in late 2014 the band has already received standing ovations at some performances!

Chris Pearce, leader, soprano sax, took up the clarinet in his youth and after moving to Gloucestershire teamed up with a few local boys to form a band. Soon afterwards he was asked to join the Riverside Jazzmen in Bath with whom he remained for 15 years. During this time he played alongside many legends of jazz including Earl Hines, Buck Clayton, Willie "The Lion" Smith and Joe Harriot, not forgetting an all night drinking and blowing session with the Alex Welsh band.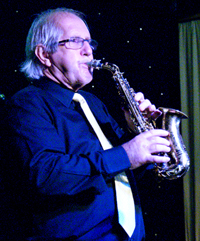 In 1976 he became a member of the Bluenote Jazz band, based in Bristol, and over the next 28 years enjoyed playing with visiting musicians such as Bud Freeman, Buddy Tate, Wild Bill Davison, Ruby Braff and Peanuts Hucko. Chris joined the Antique Six in the autumn of 2006 and the 7 Stars of Jazz early in 2007. When the Antique Six decided to disband at the end of 2011, he formed the Frenchmen Street Jazz Band which has enjoyed great success.

Andy Leggett is a highly respected and talented reeds player who took up the clarinet as a schoolboy, then, seduced by skiffle, took up the guitar. After University and spells as a bookshop manager and a translator with BAC at Filton, he started touring, playing guitar and singing, with the Pigsty Hill Light Orchestra, then bought his first saxophone. He has shared the stage with Jasper Carrot, Mike Harding, Les Dawson, Diz Disley et al. In 1976 to 1981 he was Musical Director of vocal trio Sweet Substitute.


During this time he toured and /or recorded with: The Midnite Follies Orchestra, directed by Keith Nichols and Alan Cohen, The Syd Lawrence Orchestra, The Pasadena Roof Orchestra, The Chris Barber Jazz & Blues Band and The Pat Halcox Allstars.
Andy then freelanced with translating and with various bands until joining Rod Mason in Germany in 1996. He has now returned to the UK to continue playing, recording and running Tiger Tunes UK music publishing.

Dave Deakin, trombone, is a brass player and teacher of some repute in the Midlands. He has over 20 years experience of playing trombone in jazz bands, brass bands, wind bands and pit orchestras. He is a valuable addition to Soprano Summit and Frenchman Street bands.

Phil Probert, banjo and guitar, joined his first band, on Merseyside, aged 15. He played for the university's trad band for three years while at Cambridge, then joined the Blue Magnolia Jazz Orchestra back in Liverpool. During the 1980s and 90s he played for George Huxleys All Stars until work commitments took him overseas. Since retiring from the allegedly real world, he works as a regular member of Johnny Everett's Red Dragons, Denis Armstrong's Great Northern Jazz Band, and the Sheila Fawkes Quintet, joining  Frenchmen Street in 2011. Phil also runs his own Jazzmates small combos playing the great melodies of the 1930s and 40s. Phils personal musical heroes are Johnny St Cyr, Freddie Green and Barney Kessel. If he ever gets to heaven, he hopes to sit in with Buck Clayton's band while Freddie Green is off having a pint of elixir.

Len Thwaites, double bass, is a well respected bassist who runs his own Jazz Club in Malvern. He has played with all the top players in the idiom including Alex Welsh.

Ian Parry, drums, Ian is a talented multi instrumentalist. His great interest in jazz started at university in the 50's and he learned double bass. He had previously played violin, guitar and banjo in folk and skiffle groups. Since then he has played a wide range of music from New Orleans Jazz to rock n roll to small band swing. He was on banjo with Colin Kingswell for 5 years and is also the drummer with The Excel Jazzmen.

The arrangement of a two reed front line with a rhythm section of bjo/gtr, bass and drums has a strong tradition going back to the early Twenties and coming right up to the present day. Now with the addition of trombone, other interesting possibilities arise. This will be a highly entertaining gig, led by two master saxophonists.